Christina S. Walsh Breast Cancer Foundation
---
Christina's Story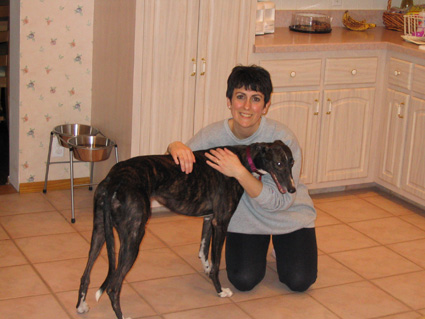 Christina Susan Wund was born on November 19, 1971 to Susan and Al Wund in Summit, NJ. She and her younger brother Matthew grew up in Somerset, NJ, where she attended St. Matthias Elementary School and subsequently attended St. Pius X High School in Piscataway. She was a graduate of Douglass College, Rutgers University and later obtained a Masters Degree in Special Education from Rutgers. Christina taught special education for several years before becoming a Learning Consultant for the local school district. In her spare time, Christina became certified as an aerobics instructor, and her near fanatical love for chocolate led her to start her own successful chocolate and cookie business. Christina's many interests included country décor, music of all varieties, from classical to Prince and Bon Jovi. Her passionate love of animals led to what seemed like a menagerie residing with her and her family from childhood into her adult years. This passion continued in her married life during which time she adopted a greyhound.

From a young age, Christina demonstrated strong values and a strong sense of who she was as a person, never compromising what she believed in for the sake of dissenting voices. Christina's generous and nurturing character came through in all aspects of her life: from her outstanding abilities as a special education teacher to her deep devotion to family and friends. Combining this generous spirit with passionate convictions, Christina had a unique ability to voice her own opinions while always conveying respect for the opinions of others. And perhaps her most endearing quality was her sense of humor, particularly when it came time to laugh at herself. Christina believed that one key to happiness was never taking yourself so seriously that you would lose sight of what really mattered in life. Her personality was effervescent, her laughter contagious, her flair for high drama when telling stories entertaining and her passion for what she believed in unwavering. Christina was one of those people who seemed to glue everyone else around her together, enriching everyone's relationships with each other even as they grew closer to her.

In July 1998 Christina married Robert Walsh and the couple was blessed with a beautiful daughter in July 2001. Christina loved Caitlin above and beyond everything. In November 2001 the shocking diagnosis of breast cancer was to be the beginning of a courageous two and a half year battle that changed her young family's lives dramatically. Despite the unexpected blow of a cancer diagnosis for such a healthy, active young woman, Christina refused to let her illness dampen her passion and enthusiasm for life. She continued being a great mom, wife, daughter, sister and friend. Cancer didn't stop her from continuing her chocolate and cookie business or from helping many special education students and their families. She inspired countless people throughout her battle, with her persistent and genuine smile, as she continued to focus all her energy into her daughter, her family and the well-being of others. Throughout her illness, Christina taught us what is means to be heroic. She was a beautiful individual full of life and laughter who brought joy into the lives she touched in her 32 years.

The Christina S. Walsh Breast Cancer Foundation honors the courageous women, men and their familes battling this disease, and our hope is to impart the same loving, comforting strength that was so much of who Christina was.